3D street painting
Ground paintings as an interactive advertising or communication tool.
3D street painting
Bring your brand, product or event to life in a unique way with a 3D street painting. Our striking ground paintings attract a lot of attention and are excellent as an original means of advertising and communication in the outdoor area. With spatial insight, creativity, paint and a piece of street, our street painters create unforgettable works of art in public space that the public can enjoy for free.
Optical illusion through a street painting
A 3D street painting is often used to create an optical illusion and shows a 3D effect at the right viewing angle, such as a hole in the ground or an object that appears lifelike in front of you. A 3D painting sometimes looks strange and distorted, so the three-dimensional effect can only be seen when the painting is viewed from the correct vantage point.
With a normal (2D) ground painting we can make an image, logo or product visible on the ground. These paintings look the same from every angle and are visually similar to the effect of floor stickers. Our ground paintings always provide a 'wow' effect and are ideally suited as an eye-catcher during (brand) activations, fairs, events or (product) presentations.
Temporary and (semi-)permanent paintings
Because we make our ground paintings with water-based acrylic paint, they are semi-permanent. The lifespan is difficult to determine in advance because it depends on the substrate, the weather, the location and the load caused by traffic and cleaning services, for example. The paintings that we make in the outdoor area usually remain beautiful for months or sometimes even years. If desired, we can always remove a street painting with a hot water high-pressure cleaner, or you can also choose to let the painting wear off.
It is also possible to make a street painting on a floor sticker or wooden interlayer so that it can be used indoors during an event, fair or open day. A temporary painting on street stickers can also be used outside, where it can be removed after 1 or more days. We use specific outdoor floor stickers that have an anti-slip layer. Unfortunately, a ground painting on a street sticker cannot be reused after removal.
Paintings and social media
The nice thing about a 3D ground painting is that the public can be part of it. By standing in the right places, it seems as if you are absorbed in the painting and, for example, are standing on the edge of a deep ravine or walking on a rope ladder above the water. Partly because of this, photos of these types of 3D paintings are often shared on social media.
Characteristics:
Interactive eye catchers
Can be used throughout Europe
From: €1650 (excl. VAT)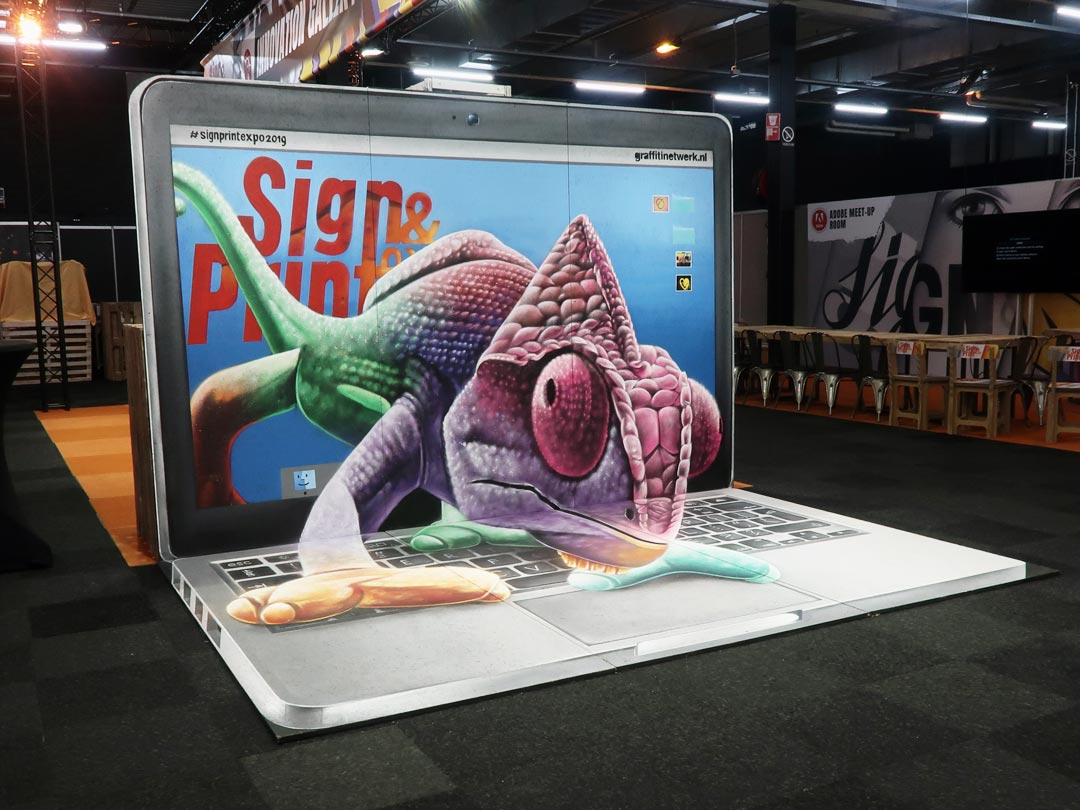 How does a 3D painting or optical illusion work?
You have probably seen it on the street or on the internet, a painting that creates the illusion that the ground has been torn open and a hole has appeared. Often an abyss, depth or ravine is depicted with a rope bridge over it or objects that are visible in the abyss. This form of optical illusion is called anamorphosis or 3D art and is the key to creating an optical illusion.
To achieve the effect of an optical illusion, the design must be distorted or stretched in a specific way, often by means of a formula, to make the desired 3D effect visible from the point of view. Due to this deformation, a minimum ground surface of approximately 3 to 25m² is required when making a 30D street painting.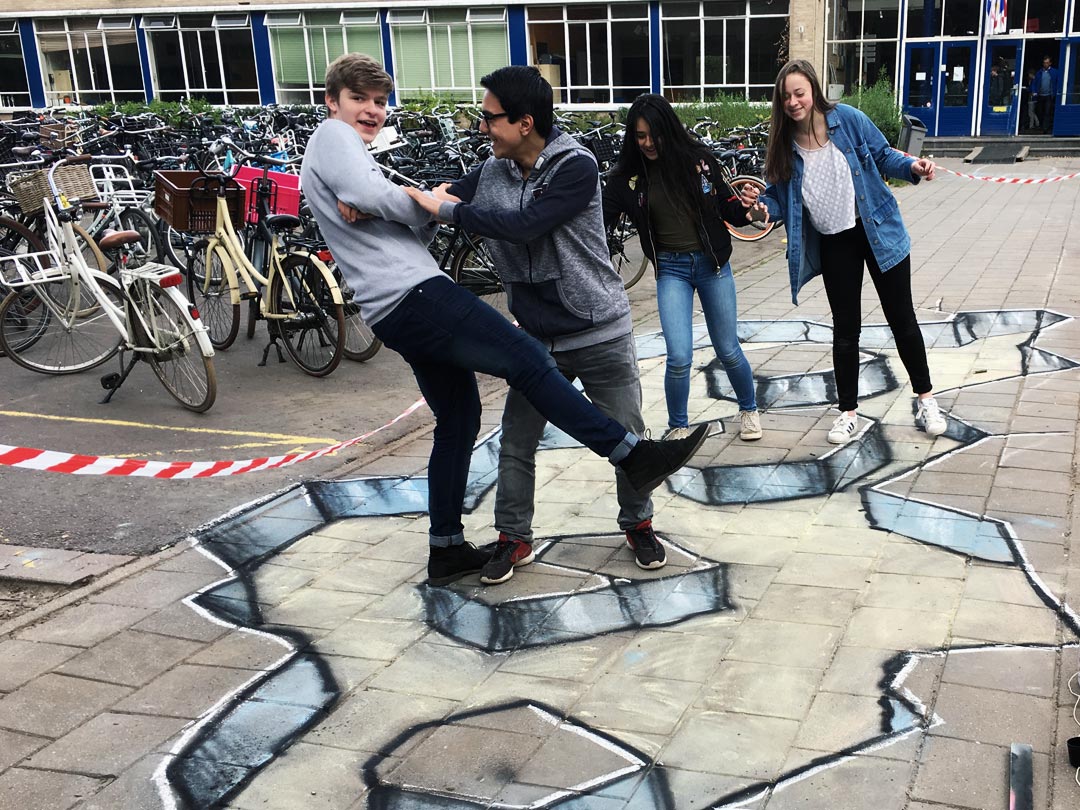 Would you like to follow a street painting workshop?
Have you always wanted to work with this special form of street art? Grab your chance now and follow the street painting workshop; an introduction to the world of the "I Madonnari". The street painting workshops are extremely suitable as a team building activity or creative company outing, but it is also an inspiring activity for groups and schools. We have developed a creative program in which the concept and technique of street painting are explained and where a ground painting is jointly made as the end result.
Reviews and experiences
A selection of customer reviews and experiences with our company, team and services.
Street painting
Nice contact and very satisfied with the result
6 months ago
Street painting
Wonderful result again.
1 years ago
Street painting
Lies
Municipality of Beerse
Very nice end result & The children of the Kidsclub really liked the workshop!
2 years ago
Street painting
geert
municipality of Kasterlee
Very nice and correct cooperation! Nice result! Will definitely be using it more in the future.
2 years ago
Street painting
Veronique
City of Hoogstraten
A pedestrian and bicycle path near a school was given a colorful 3D painting. The effect is really nice: kids now hop over stepping stones and jump over planks above a ravine.
2 years ago
Street painting
Great beautiful street art to indicate the 1,5 meters. Nice execution of the first idea with lots of nice details.
2 years ago
Street painting
Nice eye-catcher on the way to the location Graffitinetwerk. Fine cooperation!
5 years ago
Street painting
Municipality of Utrecht
Safety Overvecht Team
Nice eye-catcher made against car cracking at the Overvecht Shopping Center. Great fun!
The day of the installation attracted the most attention, the visitors really enjoyed seeing the artists at work.
5 years ago
Street painting clips
View some videos of street paintings we have provided here.
FAQ and practical information
Practical information and frequently asked questions about our street paintings.
What does a 3D street painting cost?

For a 3D street painting, a starting rate of Euro 1650 excluding VAT applies. Because the exact price depends on various factors such as what may be depicted, the size and the location, we recommend that you request a price calculation without obligation via our Contact page. We are flexible and like to think along with you about the possibilities, even if you have a limited budget.

How is the design for a painting created?

The concept for a painting is of course completely tailored to your wishes, ideas and goals. After receiving the order confirmation, we start preparing your project. Based on our checklist, we request all information from you in a clear manner so that we can come to a suitable idea / concept in consultation. Because making a good concept often takes more time than actually making the painting itself, this process is only started when the assignment is concrete. We can (re)create anything and master every conceivable style, including abstract, figurative and photorealistic. To get an idea of ​​the possibilities, we recommend our extensive portfolio to watch.

How long does a street painting remain visible?

The lifespan of a street painting depends on your wishes, the material used, the substrate, the location and the load caused by, for example, pedestrians, traffic and/or cleaning services. The ground paintings that we make in the outdoor area are semi-permanent and usually remain beautiful for months or sometimes even years. If a painting needs to be temporary, it can be applied to a floor sticker, after which we apply the sticker to the desired location and remove it if necessary. The type of sticker is chosen based on the location (indoors or outdoors) and the desired visibility period. If a painting in public space should no longer be visible after a specific date or period, we can remove it with a high-pressure cleaner.

Is a permit required for street painting?

A permission letter or permit is required for applying a street painting in public space. Making a street painting usually takes 1 or 2 days and can therefore not be carried out as guerrilla marketing.

What is the format of a 3D street painting?

To create a 3D effect or an optical illusion with a street painting, a minimum size of approximately 25 to 30m² is required. A 3D effect is sometimes also feasible with a painting in a smaller format, but will then be less powerful. Ground paintings with a 3D effect can of course also be applied in a larger format than 30m².

How long is the preparation and production time?

The preparation of a painting takes an average of 5 to 12 working days. In consultation, this process can be accelerated by placing an urgent order, but we are dependent on how quickly we can switch with the client. Our planning is usually quite full, so it is advisable to take an option on the desired execution date or period in good time.

Our paintings can be scheduled 365 days a year

A mural, street painting, live art or customize session can be scheduled 7 days a week at a time of your choice. We also work every day of the year, including holidays and public holidays. Due to a usually very full schedule, it is advisable to take an option on the desired date well in advance so that availability can be guaranteed.

We take care of our paintings and live art all over Europe

We provide our paintings, live art and customize sessions at any location of your choice in the Benelux or beyond. We mainly work in the Netherlands and Belgium, but we also regularly provide our activities in other European countries.

The quality and finish of a work of art

In connection with the quality standards and color guarantee that we guarantee, we always work with our own materials. We always finish paintings in the outdoor area with a high-quality transparent varnish to make the paint layer extra hard and weather-resistant.

No questions & answers found.
View all FAQs
Information, advice or a quote without obligation?
Contact us now and receive a response today.